considering 2007 brought us the year of "the teenager that only listens to ambient post rock, has no sense of humor, and pretends they've been a radiohead fan since before they were born", i'm really surprised surface of atlantic aren't getting a lot more love.
well, here's to the start of what's hopefully a storm of hype for these dudes.
hailing from montreal, soa have blended sounds from bands that
almost
sound similar, but are quite different in many areas (ie mogwai, radiohead, sigur ros, the velvet teen, travis). there's also a certain accessibility that's often missing in acts like these. moments of almost dancable pop charm randomly show themselves amongst lush arrangements and rich instrumentation. there's a familiarity to the vocals, but it's definitely a strong voice that holds it's own.
given the chance, i think these guys could really become something special to music. and with an album due out this year, make this your chance to say you were in the know all along.
official surface of atlantic website
.
surface of atlantic on myspace
.
download ephemeral as we speak: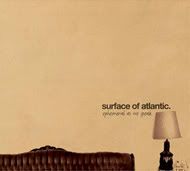 - surface of panda