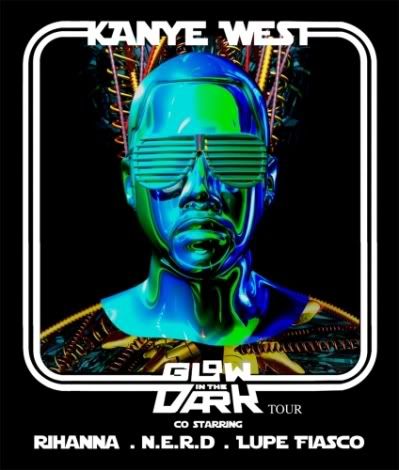 DISCLAIMER TO JEROME: DON'T READ THIS UNLESS YOU WANT TO CRY.
The Glow in the Dark TourKanye West
with
Rihanna, N.E.R.D.
and
Lupe Fiasco
May 2, 2008
Cynthia Woods Mitchell Pavilion, The Woodlands, TX
To consider Kanye West's Glow in the Dark Tour epic would be an incredible understatement. The tour shuffled its way through Texas last week, including one of the few amphitheater stops at the Cynthia Woods Mitchell Pavilion on May 2nd.
West had been hard at work months prior to the tour, prepping up for what was to be the summer blockbuster tour to end all tours. All creative aspects of this tour were meticulously crafted and executed by Mr. West and his production team. Everything from creating new samples by Daft Punk, to working with the Jim Henson company for animations, to constructing a spaceship for West's transportation was thought out and planned.
From the seconds the lights dimmed to the time the venue's lights came on, the crowd was deafening. The 17,000+ capacity venue was packed to the brim with screaming and hyped fans.
As West's set began, the crowd was introduced to Jane, which we would find out is West's spaceship. West and Jane were on a mission to find other sources of creativity as they crash landed on another planet. Once creativity was found, the duo could find their way back home, where they would embrace the newfound creativity. Although an overall cheesy concept, it supplied very entertaining filler in between songs.
West flew through an energetic hour and a half set, blazing through the majority of
Graduation
, most notably "Good Morning," "Can't Tell Me Nothin'" and hit single, "Stronger."
West also made a point to revisit old material, as he rocked "Get Em' High," "Spaceship" and breakthrough single "Through the Wire" from debut album
The College Dropout
. From
Late Registration
, notables were "Diamonds (from Sierra Leone)" and set closer "Touch the Sky," which featured a cameo from opener Lupe Fiasco, which went over very well with the Houston crowd.
The lineup on this tour was excellent, and another huge incentive to attend. Lupe Fiasco hit the stage much earlier than he should have, as the crowd was still filing in as he played. His set was showcased to a half-packed lawn and predominately empty seats, so one could imagine his disappointment.
In spite of the complications, Lupe's 30-minute set was entertaining and comprised mostly of songs from
The Cool
. Lupe happened to bring his entourage, including Matthew Santos, Bishop G and Nikki Jean, which provided the extra energy the crowd needed to see. Another pleasant surprise was bringing Houston's own Bun B of UGK fame on stage for a song as well.
N.E.R.D. was up next, and did an excellent job of getting the crowd involved, complete with "hell-yeahs" and chants of "N-E-R-D" throughout. Frontman Pharrell Williams knows exactly how to work a crowd and managed to captivate them enough to interact with an act that they may have slipped from their radars.
Rihanna's set was the least enjoyable of the night. Overall, it was just an oddly-placed pop act amidst a handful of respectable hip-hop artists. Despite being a crowd favorite and a very decent cover of M.I.A.'s "Paper Planes," Rihanna's set was forgettable at best. And yes, she played "Umbrella."
Hands down, this was one of the best tours I have seen. Mr. West and company worked extremely hard for a complete and cohesive product, and it delivered 100 percent. It really is no wonder that Kanye West got so heated over Entertainment Weekly's B+.
-grizzly
p.s. setlist is in the comments. don't read if you don't want to spoil it.