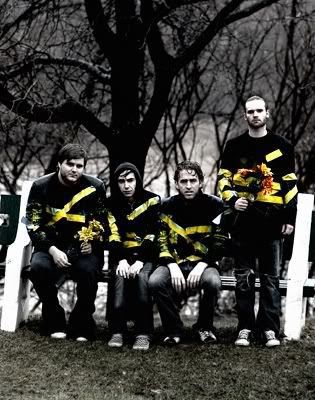 most people, including myself, hate concept records. i usually think they are pretentious and throughout the course of the album, bores itself. i just feel strongly about the fact that i think most artists get in way over their head when they want to write concept albums. but like everything else, there are exceptions, and boys night out's
trainwreck
is definitely one.
back in 2005, this was one of the best concept records i had heard in a LONG time. it was just an incredible album all around. i'm not even a big fan of boys night out, and i honestly don't like anything from the rest of their discography.
this record is unbelievable. the concept was derived from a short story was written by the guitarist/back-up vocalist jeff davis, and is based loosely on two characters. the focus of the story is "the patient" and the entire record is based off of him, as it follows him through tragedy, love, and insanity. for the entire story broken down by song, read the
wiki page.
anyway, enough yapping. enjoy.
boys night out on myspace.
download trainwreck:
-grizzly's night out