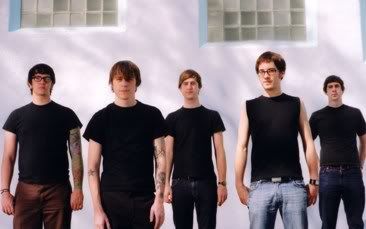 it pains me to think how underrated this band was, and how they broke up without ever getting huge. they came out at the perfect time, had the perfect songs, perfect breakdowns, perfect riffs, ridiculous vocals, excellent instrumentation. how this band did not catch on with everyone is fucking beyond me. granted, a lot of their style seemed derivitive of refused, but they carried it out and held their own style flawlessly. if i had to sit back and think about all the awful bands in texas whose sets i had to sit through, having known the rise in their prime basically makes up for it. they made austin and the rest of texas very proud.
the rise on the web
.
download signal to noise:
DISCLAIMER: GET THIS ALBUM IMMEDIATELY.
DISCLAIMER 2: IF YOU HAVE NOT STARTED TO DOWNLOAD THIS ALBUM YET, PLEASE KILL YOURSELF.
- grizzly