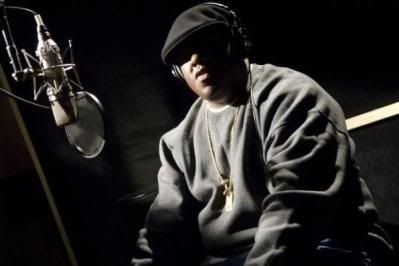 so i saw notorious and pretty much loved it. not the greatest movie, but i just love BIG way too much not to appreciate the movie. everything in the movie was solid, besides minor casting slip-ups like
papa doc
playing tupac. dude was terrible, and portrayed tupac like some ignorant and irrational moron, which as we all know, he wasn't. angela bassett could've dropped on a heavier accent, because BIG's mom had a much thicker accent. other than that, i'd give it a solid B-.
did a column for my school paper, and my boy mike did the movie review, which you can read
here.
(note: anything about the movie was done by mike, the layout editors fucked that one up.) i took the responsibilities for the soundtrack. enjoy.


Artist:

Various Artists


Album:

OST - Notorious


Record Label: Atlantic
Release Date: January 13, 2008

The Notorious B.I.G. is a shoe-in for the list of the most influential hip-hop artists of our generation. If you've ever considered yourself a fan of The Notorious B.I.G., chances are you've already heard most of the material on the soundtrack for the biopic Notorious. However, if you happened to catch the movie and found yourself inspired to have a refresher course on his discography, then it's a good starting place.

The soundtrack includes some of Biggie's biggest hits, as well as underground classics like "What's Beef," "Juicy" and "Party and Bullshit." The release also features a couple of new tracks, including Jadakiss' "Letter to B.I.G.," featuring Biggie's infamous widow Faith Evans. The track is heartfelt and vulnerable, both emotions that many hip-hop artists may be afraid to express.

Also on the soundtrack is the incredibly disappointing "Brooklyn Go Hard," which features Jay-Z, the most well known apprentice of Biggie, and Santogold, recent blog/hipster favorite. It seems unlikely that a song featuring this collaboration on a Kanye West beat would disappoint, but the three fail to deliver.

Perhaps the best things about this soundtrack are the three unreleased tracks from Biggie's earlier years — "Microphone Murderer," "Guaranteed Raw" and "Love No Hoe," which stays true to the promiscuous and lighthearted Biggie that everyone has grown to love.

However, the soundtrack misses a few steps. It kicks off with "Notorious Thugs," definitely a fan favorite, but not heard in the movie. Likewise, there is a slew of unreleased material that could have been surfaced through this release, but the team behind the release decided on only three tracks.

Notorious is probably not worth what you would have to shell out at the mall or Best Buy, but is an overall cohesive backdrop for the movie's theme and serves its purpose well. For anyone who hasn't been exposed to any of these influential and genre-defining tracks, it would be well worth your time.


Grade: B+
-the notorious grizzly