easily one of my favorite bands of all time, i'm kind of upset with myself for not posting about these guys (and girl) earlier. i mean, i'm sure there are plenty of you out there that're down with this band.. but perhaps there are some that aren't.. or perhaps it's been a minute since you've put this album on.
i remember hearing a couple of songs from them in either senior year of high school or freshman year of college. it took me a long time to find a physical copy of this album before finally coming across it at waterloo records in austin. the musical interplay between the members of this band is something that is totally missing in music today. intricate, noodling guitar lines weave their way through one of the dopest rhythm sections i've ever heard. all tied together with andrea zollo's sharp vocals and sharper lyrics. this was all made that much better by their live show. i saw them open for alkaline trio about five years ago, and i didn't even care (as much) about seeing alk3 live after pretty girls make graves were done.
it was definitely a shame to hear about the members going their separate ways last year, but they all have new projects going on. i'm way too lazy to post myspace links to their various bands, but i know if you go to pgmg's myspace page, all their new bands are in their top people. i do know that guitarist jay clark is in jaguar love with cody votolato (of waxwing/blood brothers fame) and johnny whitney (also of blood brothers fame). man.. the seattle indie music scene is so fucking incredible.
pretty girls make graves on myspace
.
download good health: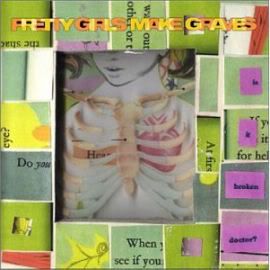 - panda