i'm not gonna front like rufus wainwright doesn't have my heart, because then i'd be a liar. and my mom taught me that it's not nice to lie.
if you haven't ever given rufus wainwright a listen, you're doing yourself a grave injustice. you're missing out on a crooner in the truest sense of the word. the man is a musical genius, and he's got the bloodline to prove it. there isn't anything about this album that is short of amazing. from the lush instrumentation, to the lyrics, to wainwrights (both his, and his sister martha's, who does guest vocals on several tracks) captivating voice. discover.
rufus wainwright on myspace
.
download poses: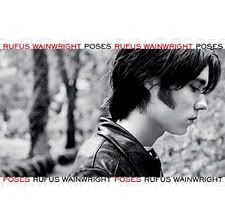 - panda