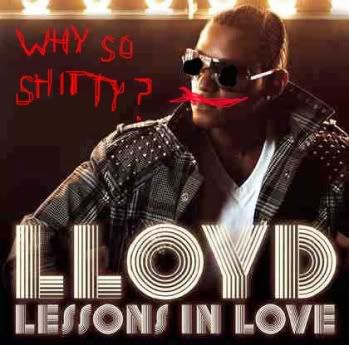 Artist: Lloyd
Album: Lessons in Love
Record Label: Universal Records
Release Date: August 5, 2008

Although it hasn't been very long since we had our last offering from Lloyd, one of the South's more well-known crooners hopped back into the studio after his platinum selling sophomore album,

Street Love

, to release his latest collection of clichéd anthem of sex and love balladry,

Lessons in Love

.

Following the album's title as a loose concept, Lloyd jumps into "Sex Education," a light-hearted and upbeat number with live instrumentation. Very literally, he turns this song into the step-by-step program about sex, making it known that he "wants to make an A," and will show you his if you show him yours.

The biggest problem with this album is the monotony in subject matter. The realization of this being Lloyd's style and the genre he's pinned himself to comes to mind, but it wouldn't hurt to switch it up. It also wouldn't hurt if he attempted to write better lyrics than "Please have my baby/Yeah, I'm talking to you/If you wanna have my baby/Here's what you do/Take your clothes off," found on "Please Have My Baby."

There are a couple of enjoyable songs on

Lessons in Love

. "Girls Around The World," the album's first single, samples Eric B and Rakim and features a Lil' Wayne cameo, and "Love Making 101" features a guitar solo, easily one of the album's highlights. However, taking these songs at face value is recommended, as the subject matter remains cliché and continues to fall flat.

The production on

Lessons in Love

is another one of the few things keeping this album afloat. With the aid from Big Reese, Jasper Cameron and Polow da Don, Lloyd manages to have an album full of probable hits. The live instrumentation in "Sex Education" and "Love Making 101" switches up the vibe, while Polow's synth-heavy production on "Party All Over Your Body" is just well-produced.

With

Lessons in Love

, Lloyd makes a valiant effort at attempting to join the ranks of the Ushers and Babyfaces of contemporary R&B, but pales in comparison. Considering all of the underrated talent that lies within hip-hop's borders, the fact that Lloyd has a record deal and the amenities to be able to hire top shelf producers to make him sound good is a mind-bender. But the fact of the matter remains; the man sells records, and is obviously doing something right. I'm just not signing off on it.


Grade:
F
lloyd on myspace.
note: this review was for
allhiphop.com
, but they haven't gotten around to posting it, so i'm posting it here.
-grizzly