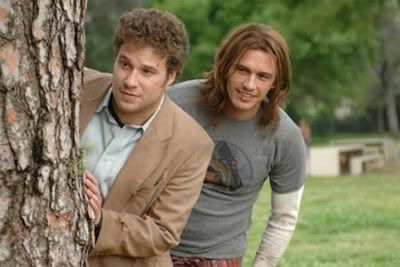 another ridiculous stoner flick that had me laughing from beginning to end. by now, you're either a fanboy of or hate any and everything judd apatow and camp related. after superbad, it's safe to say that i've probably crossed over to the fanboy side.
this movie was ridiculously funny. a semi over-the-top plot in which dale denton (rogen), a pothead public servant witnesses a murder, ends up running back to his dealer, saul's (franco) place, fleeswhich essentially sets up for an hour long chase scene between the kingpins and the potheads.
after seeing franco in the
abomination
that was spiderman 3, i was reluctant to see him take on the role of the stereotypical absent-minded stoner. turns out, the dude is fucking hilarious and was probably the best member of the cast. rogen delivers as usual as well mainly due to the fact that since 40 year old virgin, i've developed an admiration for chubby jewish men. the two have a great chemistry on screen, homoerotic innuendos included. the two could be a wonderful couple. seeing daryl from the office was also awesome.
anyway, this movie comes highly recommended from me. i'll probably end up seeing it again, or buying it eventually. it's still not funnier than anchorman or superbad (my two favorites) but it is definitely worthwhile.
grade: B+
p.s. has anyone seen step brothers? any good?
-grizzly