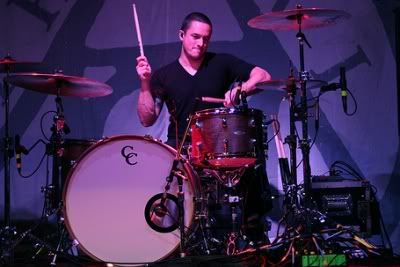 so i got the chance to sit down with riley breckenridge of thrice, and it ruled. they've been one of my favorite bands for a long ass time and this was my 16th time seeing them. all fanboy-isms aside, here's the interview. for those of you on the fence about the gaslight anthem/thrice/alkaline trio/rise against tour, PLEASE GO.
texas was lucky in the sense that we didn't have to see rise against play the same song 20 times, but the rest of the lineup was stellar. alkaline trio played all sorts of old shit, ranging from "cringe" to "i lied my face off" to "hell yes" and "goodbye forever." thrice did their usual varied set with some surprises..."blood clots and black holes" and "betrayal is a symptom" anyway, i'll stop rambling and let you read the interview with riley, in which he discusses deadbolt, the alchemy index, and the upcoming CD/DVD release among other things.
oh and for the record, i'm bhatt, he's RB. we just happen to share the same initials, so i needed something to differentiate the two.


Interview with Riley Breckenridge of Thrice
October 27, 2008
Houston, TX


Roshan Bhatt, The Daily Cougar: What is your name, and what do you do in Thrice?


Riley Breckenridge, Thrice:

I'm Riley Breckenridge, and I play drums for Thrice.



Bhatt:

How's the current tour going?



RB:

It's been cool. One of reasons we wanted to do this tour besides being friends with Alkaline Trio for 7 years and Rise Against from a couple Warped Tours was because it was going to give us an opportunity to play for people that might not have seen us before. It's been awesome, but it's been a little bit of an adjustment. The last three years of touring we've done have been headlining tours or [direct] support tours, and this one, we're 2 of 4, and playing for 40 minutes. Our night is over at 8:30. It's taken a while to get used to but now we're finding our stride.



Bhatt:

What are the main differences between supporting and headlining?



RB:

Headlining, obviously you're a lot busier. You load in earlier, you get nightly sound checks and you have to deal with more press. With this tour, it's just like "Holy crap, what am I going to do all night?" It's just a lot more of just sitting around, because we're not sound checking, the press load is a lot less, and we're only playing for 40 minutes, but it's easy. It's like a vacation. There's a lot of time to hang out with the other bands.



Bhatt:

Last time I saw Thrice and Alkaline Trio tour together was the Vans Warped Tour in 2002. I don't know if you've toured together since then, though.



RB:

No, we haven't toured since then. We've run into them a few times at festivals and stuff.



Bhatt:

On the Circa Survive tour, there were several obnoxious kids yelling "Deadbolt!" all night and Dustin even had to say something. Is this commonplace for Thrice?



RB:

[Laughs] That happens at every show. It happens more than I think any of us would like it to happen. I understand people want to hear that song, even though we haven't been playing that song on this tour. But mainly because we've been playing it at every show since 2002. The only time that it's a bum out is because there are some songs like "Come All You Weary" or "The Earth Will Shake" or "The Whaler" where a lot of that song has to do with the mood and trying to set up this mood for the audience. Like if it was just Dustin with an acoustic guitar or just even a really mellow keyboard line, it's important that it's quiet. A lot of that song has to do with the mood, and when you have someone yelling "DEADBOOLLLLLT" during the middle of it, it ruins the moment for the people who actually want to see it. And we're not gonna play it any quicker if you yell it at us. It's usually last or towards the end, so just because you yell it at the end of every song, we're not gonna be like "Oh yeah! We

should

play it." We've even had people yell it AFTER we just played it. Like really? Some people go to shows for music, and some go to be seen.



Bhatt:

Are there any plans of formally retiring the song?



RB:

I don't think so. The only song we've beneficially retired is T & C, mainly because Deadbolt was the new T & C. At certain times, it's just like you need to put a song to bed for a tour or a year, then you go back and revisit it, like we revisited "Blood Clots and Black Holes," which we've played every night this tour.



Bhatt:

Are there going to be any more tours for

The Alchemy Index

?



RB:

Nope. The plan is to go home after this tour. We started sharing ideas for the next record, so we'll take a month off to relax and write on our own at home. At the beginning of 2009, we'll start writing and recording for the new record.



Bhatt:

What did you hope to achieve with

The Alchemy Index

, and do you think you achieved it? And what is your personal favorite EP?



RB:

I think the goal with the index was just to try a lot of new things and not worry about turning a part or turning a song that felt "Thrice-ish." Songs like "The Whaler," which has Rhodes keyboard and electronic drumming, just really mellow. The idea for that on previous records would be wondering how to fit this into a song or transform it to something more like Thrice. With this, we just let the ideas be what they were instead of molding. The overall goal was to experiment and push ourselves in new directions and to record our own record. I think we were successful in all aspects and we learned a lot from it. We are really energized and excited about what's next because of it. My favorite EP to play is Fire, because I'm drawn to the physical side of drumming. with Fire, I'm as active as I can be. But to listen to, I really like the Water disc.



Bhatt:

So most of the members of Thrice have families now. Is thrice everyone's priorities? Are we going to see more albums?



RB:

Yeah, you'll definitely see more albums. Obviously, the guys with families have their families as their top priority. So the only thing that'll change is instead of touring 8-10 months out of the year, we'll tour 6 months. Since the guys have had kids, they obviously need to spend more time at home, and that's always ok. So we're touring less, but the desire to create and write music is still there, and that's still everyone's top priority.



Bhatt:

Considering your musical evolution and progression, do you feel detached from material from

The Illusion of Safety

and

The Artist in the Ambulance

?



RB:

A little bit. It kinda depends on the song. A song like "Trust" from IOS still feels good now, because it has a little bit more "feel" than the other stuff. The thing that we've tried to learn since the old days is we've tried to play with more feel, or groove or how to create space. Since the old days, it was all about playing fast and how many riffs can we stuff into this song. "Feel" never entered our minds. So now, after playing and concentrating on feel, you go back and feel tense again, because it's uncomfortable to play. So I don't know, not necessarily detached, just in a different space. Detached makes it seem like you're permanently done with it, but I just think we're in a different headspace now.



Bhatt:

So you guys have a CD/DVD release, Live at the House of Blues coming out soon. How'd that come about?



RB:

Well it's coming out December 9th. It was a hometown show at the Anaheim House of Blues, and LiveNation had some HD cameras set up and wanted to film the show, and we just decided to make a DVD out of it. So we played the longest set we've ever played. It's 25 songs, so we recorded it, and Teppei mixed the audio. I saw some of the edits and for not having a massive budget like My Chemical Romance or Coldplay, I think it came out really good. I think people will enjoy it.



Bhatt:

What does your current playlist look like?



RB:

Well there's this band called Intronaut, that's like tech-ish, progressive metal. I've been listening to the new Kings of Leon, the new Stills record. We played with this band called Rosetta in Westchester, and I've been into them for a while, but I got the chance to see them live and it got me back to listening to them again. I've been doing a lot of iPod shuffling. I like everything that's on there now and the best way to keep from getting stuck on one thing and to keep getting influences from different types of music.



Bhatt:

What about books? Is there anything you've been reading lately?



RB:

I'm reading "Brief Interviews with Hideous Men" by David Foster Wallace. I did a blog post about this. I was an English major and I've read a few of his essays on accident because they were assigned, and after he died I read all these tributes and letters by authors I really like. Writers like Dave Eggers, Chuck Klosterman and Bill Simons, who is a sports writer for ESPN. All of these guys are coming out of the woodwork saying Wallace was a huge influence on them, so I'm thinking I need to see where these guys are getting their influence from.



Bhatt:

So I heard you're playing Helter Skelter [by the Beatles] on this tour? Why a cover? I haven't seen you play a cover in a long time.



RB:

Just to switch it up. Since this is the last tour on this record, and we've been playing these songs for a while. We just wanted to switch it up and instead of playing Deadbolt for the 50,000th time; we just wanted to do a Beatles cover. It's in the middle of the set and it kind of just gives us a break.



Bhatt:

Ok well do you have blisters on your fingers? And who's yelling that tonight?



RB:

I

do

have blisters on my fingers. And maybe I will [laughs].



Bhatt:

Well that's pretty much it; would you like to add anything else?



RB:

Thank you to anyone who has been supporting us whether you've been listening to us since 2000 or you're just getting into us. We're just lucky to be doing what we're doing, so thanks.

enjoy. setlists in the comments.
-grizzly