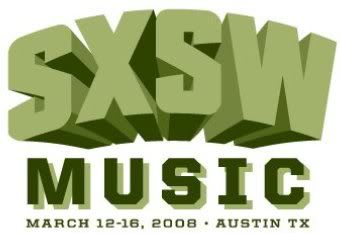 whoops. i got caught up in updating, and completely forgot to write about sxsw.
it was a pretty rad time. my friends and i got there on
thursday night
, and found out that there was not much we could actually get into at 9:30 pm. so after we found a parking spot, we trekked down the festival to find something to do. one of my friends calls us up and tells us about the DIM MAK party, which we had rsvp'd to, and a party
kid sister
is supposed to play, so we went there.
dj mom jeans,
also known danny masterson, was playing a pretty great set, backed by an open bar and an incredible oak lodge with a balcony and worthwhile ambience.
steve aoki
followed with heat, and i'd say i was impressed. the man gets a lot of shit. kid sister did NOT play, so we left, and headed to some other house where i ran into the coolest jew known to man,
a-trak,
or who some of you know as kanye's dj. we shot the shit for a little while, and we turned in around 4 a.m.
all in all, a successful day one, despite not going to any shows. i also forgot to mention that i dented my car, because i was trying to snake this parking spot from some asshole. karma is a bitch. however, keep this in mind for later. it shall be brought up again.
day two/friday
saw an early rise for the shirts for a cure/photo finish records showcase at red 7. we had to get in line early as to beat the crowd for the
hot water music
reunion show.
got in, watched
tiger lou
, (whose new album
the loyal
came out recently. be sure to check that out) after we realized the bands we want to see aren't playing for a while, we accidentally caught
dizzee rascal's
set across the street.
after that, we rolled over to beauty bar to see the beasts in
portugal. the man.
a nice surprise to their set was seeing kirk huffman of
kay kay
and
gatsby's
fame play guitar for p.tm. ran into him later when i was watching
limbeck,
who is probably the happiest band ever.
trekked back over to the photo finish show, and i heard most of
nada surf's
set. they sounded good and played some songs off of their new album,
lucky
, which i still haven't listened to.
missed
paper rival,
but no biggie. caught
steel train,
who played mostly new songs off of
trampoline.
envy on the coast
played next, and ripped through songs off of
lucy gray
and managed to squeeze a sassy cover of talib kweli's "get by" in their set. saw a good 30 minutes of
hot water music's
set, and it really wish i got into this band a lot more than i did when i was younger. the crowd was nuts, and the band was dead-on. then, went back, and caught all of
anthony green's
overall entertaining set.
by this point, my friends and i were exhausted and blitzed beyond belief, so we grabbed some pizza and sat on the side of the road for a good hour or so before heading off to the
iheartcomix vs. mad decent
blowout, only to get there to a line of 500+ hipster assholes who also rsvp'd to the same party. we immediately vetoed the idea, headed back into town. ended up rolling to whisky bar for an
ocelot
set. partied late into the wee hours of the morning, hung out on a hill to wipe the slate, hit up some kerby lane pancakes and a bitch of a waitress, and headed home.
day three/saturday
was overall a disappointment. saw a lot of dope shit, but overall ended the night without seeing
rx bandits
and
russian circles
at the sargent house showcase, which pissed me off to end.
despite the disappointment, i managed to catch the last few songs of
tokyo police club's
set, which included "citizens of tomorrow." and i did finally get to see
digitalism
, who played a decent set and
chromeo,
who absolutely went off. easily the most fun set of the festival. not to mention, they had an 80s cover medley, with don't stop believin', your love (yes!) and anyway you want it. that stubb's texas tea goes off, too.
after that, i met
kid sister
in the street, and it just furthered my crush on her. she has a bubbly attitude, and calls everyone 'her babies.' i semi-yelled at her for having her toes done up. teddy bears!
then, hit up the
purevolume ranch
for free shit from last.fm and an open bar. free fiji and free vitamin water. the power was out so we decided to load up on everything good and pure and leave.
wanted to see
talib kweli
tear it up, but a 2 mile intoxicated walk in the afternoon heat was not relevant to my interests at the time.
so we headed to the waterloo park festival to relax for a while before what was supposed to be rx bandits,
the cool kids
(wuttup autobot?) or
mstrkrft
(which i am still sour about missing in houston), both of which were my reserve shows if i missed rx bandits, and both of which were at capacity.
caught
yeasayer,
which to say the least is a weird fucking band. also at the festival, saw bits and pieces of:
1.
islands
(any ex-unicorns is fine by me.)
2.
matt+kim
(another
iheartcomix
act)
3.
lucero
(who are absolute trash. WOULD NOT WATCH AGAIN. WOULD NOT RECOMMEND.)
4.
the breeders
(ha, and yes, they played cannonball.)
then i capped off the night with a seizure-inducing
simian mobile disco
set. after heading back to get turned away from EVERY SHOW KNOWN TO MAN due to full capacity, i ended my night with a
limbeck
set and an open bar. disappointing end to a saturday night filled with amazing shows.
bands i missed and regret:
1.
rx bandits
2.
the cool kids
3.
vampire weekend
4.
mstrkrft
5.
boys noize
6.
kid sister
7.
russian circles
8.
city and colour
9.
talib kweli
10.
kevin devine
needless to say, i'm getting a fucking wristband next year.
also, if you don't read this, i will fucking kill you. it took me over an hour.
p.s. no bunnies were harmed in the attending of sxsw, as i didn't get the chance to run into him. maybe next year, sweetheart.
p.p.s. the dent in my car mysteriously disappeared on the way home. there is no trace of the dent or scuff ever being there. thanks to whichever bum in austin pulled it out. i owe you a cheeseburger.
-grizzly