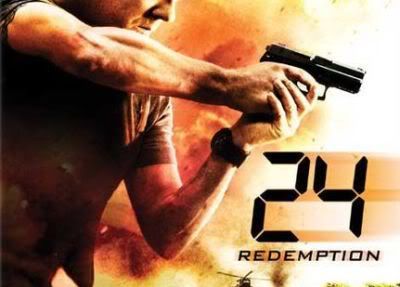 wow. 24: redemption's two hours were single-handedly on par with the entire tank that was season six. the writers really tightened up what they were initially great at doing; action. i'll try not to ruin too much, but hit up the redemption
imdb
for your plot rundown, characters, etc. i don't wanna ruin anything for you.
this was two of the best hours of television i've seen all year. yes, including lost. everyone that personally knows me knows that my two dudes are kanye west and kiefer sutherland, and sutherland completely delivered. give the dude an emmy. redemption has setup for what seems to be a very epic season seven, in which we'll see the return of my homeboy
tony almeida.
i knew you weren't dead, tony.
some thoughts:
- wtf?
jon voight
has a career again.
- cherry jones (seriously) might be a shitty president, but will never be shittier than wayne palmer.
- this prequel was the best idea for the writers. after everyone started to jump ship after season 6, this is a good way to get people back on the hype train
- i am a nerd
- please keep coming back to our blog
- the love for 24 is in no way, shape, or form related to jerome/the panda. he is too busy watching bravo, re-runs of shear genius and jon and kate plus 8. he does nothing manly.
- go cop the dvd in stores this tuesday.
- season 7 premieres on january 11, 2008.
-grizzly bauer