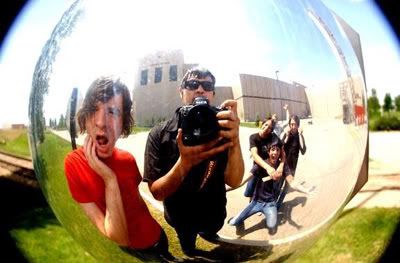 can't stop, won't stop the rhythm goin'
don't stop, won't stop the rhythm goin'

remember a few years ago when dance/post-punk was really big? well the kinison were poised to be the "next big thing" to come out of that scene. instead they released an album on a major label, got no promotion, essentially went under the radar, and later broke up. but the one full length they released is actually really good. imagine a dancier version of at the drive in with screechier vocals. recorded in just fifteen days, the best thing about this album is the rhythm section. the drum and bass combinations are insane. pounding yet intricate drumming, and some of the grooviest bass lines on an album of it's type. pick this one up if you like your music loud, but still want to shake it.
the kinison on myspace
.
download what are you listening to?:
video for "you'll never guess who died":
- pands