i've decided to make a post in honor of the release of the alchemy index. thrice has been around for a good amount of time, and has continued to progress artistically. the power this band has is fucking beyond me. anyways, this "honorary" post includes 2005's
if we could only see us now,
live at aol sessions (all of the songs are off of vheissu, and theres an incredible acoustic version of stare at the sun), and some vheissu b-sides. enjoy.
and buy
this album
as soon as possible.
thrice on the interweb.
thrice on myspace.
download here: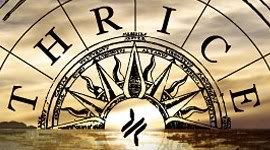 -grizzly/thrice gravy train